WXBQ's "Minute To Win It" Contest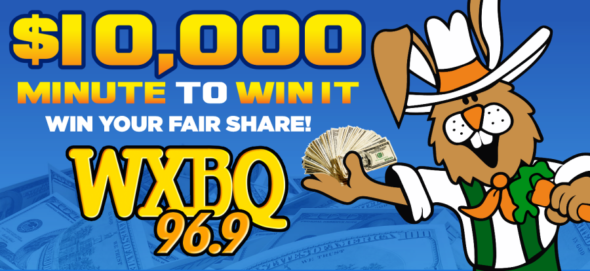 WXBQ has up to $10,000 to giveaway but, you've got to think fast!
Here's how to play…
Listen weekdays between 7a and 10pm for your cue to call, be caller #25, answer 10 questions in 60 seconds and win. For each correct answer you win $10, answer all 10 correct and you win $100.
Then there is Thousand Dollar Thursday's. The money increases to $100 for each correct answer, you could win $1,000!
Questions are general knowledge/trivia questions. Keep track of the incorrect or unanswered questions because they will be used again.
Rules and Info…
Contest runs April 24-June 2, 2023.
Contest is open to listeners age 18 and over.
Winners must reside in WXBQ's over-the-air listening area to be eligible to win.
One winner per household.
WXBQ's General Prize Policy applies where applicable.