The Rabbit's Dollar Bill Swap is BACK!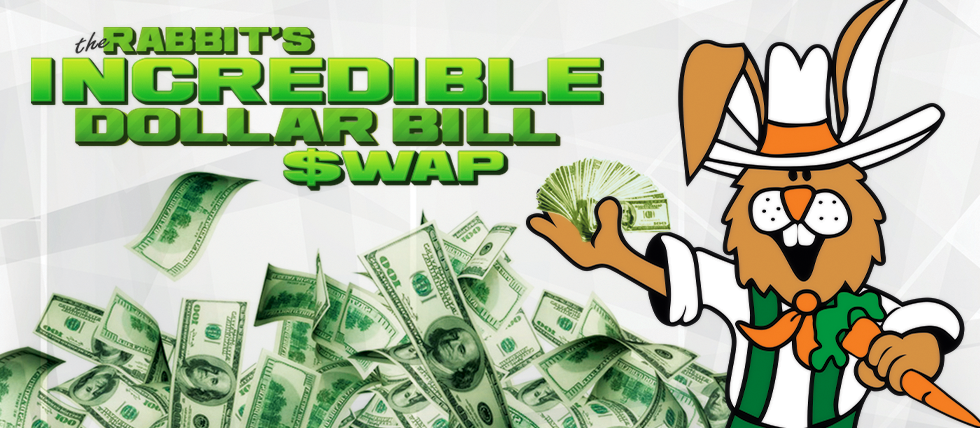 Keep saving those dollar bills….the Rabbit's Incredible Dollar Bill Swap, is back and you can win big money! The game is easy to play. Just look for a dollar bill with a nine, a six, and another nine in any order in the serial number. Then listen for your cue to call and compare your dollar's serial number with the Rabbit's pre-selected serial number. Your next chance to play could come at any time.
When the next contest is announced, be the designated caller on the WXBQ Listener Line (800-332-3697) and have your dollar bill (or bills) with a 9, 6, and 9 handy. You will instantly win $50 to start the game as you swap your dollar bill for the Rabbit's dollar bills. For each additional number (or letter) your bill matches with the Rabbit you will get an extra $100…up to $750.
To play and win you must be 18 or older and a legal resident of the WXBQ coverage area. You may win only once in the Rabbit's Incredible Dollar Bill Swap and only one winner per immediate family or household. To claim your winnings you must present your winning one dollar bill at the offices of WXBQ at 901 East Valley Drive, Bristol, Tennessee. Your one dollar bill will be swapped for the money you won from the Rabbit. All WXBQ General Contest Rules apply where applicable.
So, start collecting dollar bills with a nine, a six and another nine in the serial number and keep listening to 96.9 WXBQ. It's fun! It's easy! It's the Incredible Dollar Bill Swap from the Rabbit! And, it's only on 96.9 WXBQ!
click HERE for contest rules