BIG RIG PROBLEMS: 18-wheeler turnover causes gridlock on Interstates 26 and 81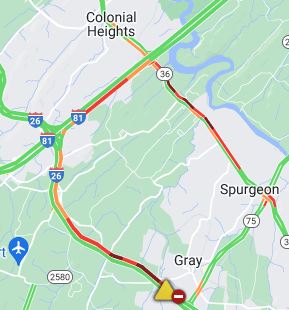 A tractor trailer turning off Interstate 81 landed on its side Friday afternoon, and crews have been cleaning up.
The rig came to a stop on Interstate 26 Exit 8A area at the top of the highway cloverleaf interchange, which has seen dozens of wrecks involving 18-wheelers over the years.
That spawned traffic gridlock onto northbound 81 and side highways in the Colonial Heights, Gray, and Boones Creek areas as commuters sought an alternate route. At one point, traffic was parked from the Exit 59 bridge in Kingsport to the Airport Road intersection in Gray, according to TDOT data.
(IMAGE: Captured from TDOT Smartway)