Big Time Wrestling presents THANKSGIVING THUNDER featuring STING!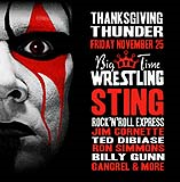 Big Time Wrestling presents 'Thanksgiving Thunder featuring Sting!
Big Time Wrestling debuts in Johnson City, Friday, November 25th at 8:00pm. THANKSGIVING THUNDER featuring 2016 WWE Hall of Fame Inductee STING plus Ricky Morton and Robert Gibson THE ROCK'N'ROLL EXPRESS, JIM CORNETTE, The Million Dollar Man TED DIBIASE, RON SIMMONS, Bad A$$ BILLY GUNN, GANGREL, BTW Champion FLEX ARMSTRONG & much more!
CLICK HERE FOR TICKET INFORMATION