Changes coming to COVID-19 vaccinations in Sullivan County this week
The Sullivan County Health Department will begin vaccinating individuals in the Phase 1c group this week.
There are several changes to the vaccination scheduled the health department made on Sunday, including the closure of the Kingsport Civic Auditorium this week while the department will be vaccinating at Bristol Motor Speedway today and Tuesday instead of at the dragway.
The department will administer Johnson & Johnson doses Monday and Tuesday at the speedway with an appointment required. The site today and tomorrow will be drive-thru and any with an appointment will enter the speedway using the South entrance off Highway 11E.
The health department said Sunday that after March 16th, they will move to a new location at Whitetop Creek Park in Bristol located at 100 Sportsway Drive. Vaccinations at this location will also
be given through a drive-through and appointments are required. The department is taking appointments for first doses of Pfizer on March 19th at the White Top Creek location. Appointments for the week of March 22nd through March 26th for first doses of Pfizer vaccine will open up today at 8:00 a.m. These vaccinations are for Phase 1a1, 1a2, 1b, 1c, and those who are 65 and older, please call 423-279-2777 to schedule an appointment.
Sullivan County health officials will not be giving second doses of Pfizer on the 16th of March. Anyone due for a second dose Pfizer vaccine on March 16th should call and schedule a required appointment to come to the Whitetop Creek Park location for their second dose on the 18th of March. These second doses are only for those who received their first dose at the Bristol Dragway. For individuals needing a second dose of Pfizer on March 12th and did not return to the Dragway on March 9th or 10th they should also call to make an appointment for March 18th at Whitetop Creek Park. Please call 423-279-2777 for an appointment.
Below are the images of the two different vaccine drive-thru locations: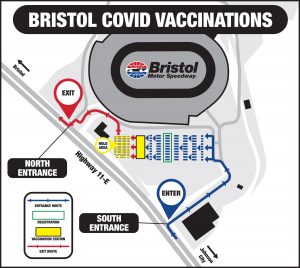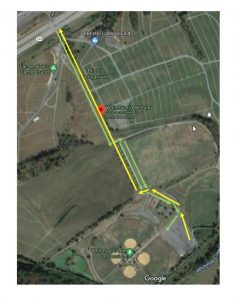 Photo Courtesy: Sullivan County Health Department