Company investigators reviewing collision between Norfolk Southern train and 18-wheeler in Greeneville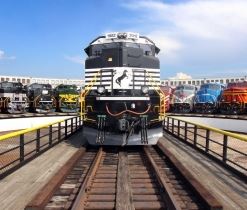 Norfolk Southern crash review teams are investigating a Wednesday night crash in Greeneville involving a train and tractor-trailer.
A report issued by the Greeneville PD said the big rig driven by Mladen Grbic had pulled in front of the freight train just after 7 pm resulting in his cargo of packs Bush's Beans being destroyed and spread out over the track property.
A NS investigator told police that the engine had suffered damage to the front portion of the vehicle after striking the 18-wheeler and its compartment trailer.
(IMAGE: Norfolk Southern Railway)