Darius Rucker at Fun Fest 2021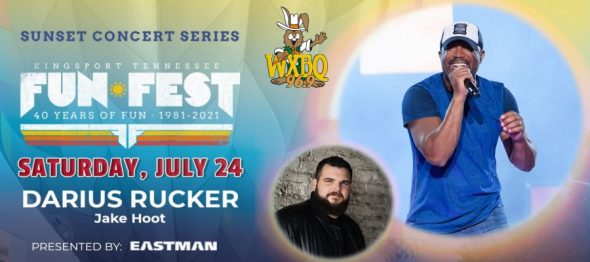 Saturday, July 24, Fun Fest 2021 will have Jake Hoot, winner of Season 17 of NBC's "The Voice" opening for Darius Rucker! Hoot is a Cookeville native that quickly became a fan-favorite. His dynamic storytelling abilities and powerful vocals led to an unprecedented run on the Emmy-award winning talent series. Following his record-breaking win on NBC's The Voice, Hoot has gone on to release several tracks including charitable song and video, "Tennessee Strong," which reached Top 10 on the iTunes Country Singles chart, debut single "Dangerous Thing," special Father's Day song, "The Best Job I Ever Had" and heartwarming love song, "Nadine." Drawing inspiration from his childhood in the Dominican Republic, Hoot released a cover of "La Bamba" from his debut EP which landed in the Top 10 on the iTunes Latin charts.
Following Hoot, we will keep the wagon wheel rolling with Darius Rucker. Rucker first achieved multi-Platinum status in the music industry as lead singer and rhythm guitarist of the GRAMMY Award-winning band Hootie & the Blowfish. The band sold more than 25M albums worldwide including their Diamond-certified debut Cracked Rear View, which remains among the Top 10 best-selling studio albums of all time. Since releasing his first Country album in 2008, Rucker has earned a whole new legion of fans with four No. 1 albums on the Billboard Country chart, including RIAA Platinum-certified Learn to Live and True Believers, plus nine No. 1 singles at Country radio. In 2014, Rucker won his third career GRAMMY Award for Best Solo Country Performance with his 8x Platinum version of Old Crow Medicine Show's "Wagon Wheel." He recently co-hosted the 54th annual CMA Awards and topped the Country radio charts once again with "Beers And Sunshine" in February. His follow up single, "My Masterpiece", is available now as Rucker puts the finishing touches on a forthcoming album.
Beginning Monday, May 24st at 10 a.m., online Sunset Concert Series general admission tickets can be purchased at FunFest.net. Single night tickets for Thursday and Friday can be purchased for $15 each and $20 for Saturday. Beginning July 16th, ticket prices increase to $20 and $25. GET YOUR TICKETS EARLY AND SAVE!! Tickets are sold ONLINE ONLY until June 25th and will then be available for purchase at the Fun Fest Store at 400 Clinchfield St., Ste. 100. CLICK HERE TO PURCHASE YOUR TICKETS