Fired Greeneville assistant police chief described as "evil, two-faced, polarizing" in MTAS report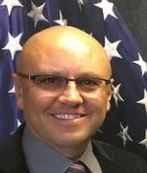 The second in command of Greeneville's police force discriminated against female workers and officers and created a hostile work environment.
Those were some of the comments made in a recently completed survey conducted by Tennessee's Municipal Technical Advisory Service that resulted in Greeneville Assistant Police Chief Mike Crum being fired according to Town Manager Todd Smith.
Other details released in the review include Crum being accused of belittling employees with PTSD, ordering a detective to find dirt on a female applicant who achieve high scores on entrance tests, and the squad's overall morale at 4 on a scale of 1 to 10 under Crum's service.
One part of the report provided to Bristol Broadcasting's News Department said Crum was described as "evil, polarizing, bad temper, revengeful, derogatory, a politician, controlling, manipulative, two-faced, and vindictive."
(Contributed Photo)