Governor orders flags to fly at half-staff to honor Delegate Johnson on Saturday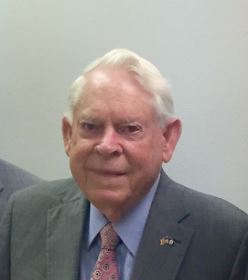 Virginia Governor Glenn Youngkin issued an order Friday afternoon for all state and local buildings in the Commonwealth to lower their flags to half-staff Saturday morning in honor of Delegate Joe Johnson, Jr., of Hayters Gap.
Funeral services are scheduled for Saturday morning in Washington County for Johnson who died last week at the age of 90.
Johnson retired from politics in the late 2010s after serving the region at the General Assembly for over three decades.
Here is the statement sent out by the Governor's office:
"In accordance with the authority vested in me as Governor, I hereby order that the flags of the United States of America and the Commonwealth of Virginia be flown at half-staff on all state and local buildings and grounds in the Commonwealth of Virginia in memory and respect of former Virginia Delegate Joseph Pickett Johnson, Jr.
I hereby order that the flags shall be lowered at sunrise on Saturday, August 13, 2022, and remain at half-staff until sunset.
Ordered on this, the 12th day of August 2022."