New Pistol Annies Music is Coming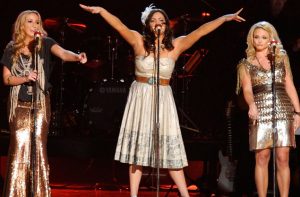 A new interview with Miranda Lambert in Billboard Magazine reveals that The Pistol Annies will release a new album in 2018.
Billboard's interview with Lambert covers her latest album, The Weight of These Wings; why she won't get political; and her thoughts on women in country music. Although the story does not include a direct quote from Lambert about new Pistol Annies music, a paragraph discussing her 2015 Roadside Bars and Pink Guitars Tour and her spot in the trio notes that she "promises a new Pistol Annies album in 2018."
The Pistol Annies — Lambert, Ashley Monroe and Angaleena Presley — haven't released new music together since 2013. That June, the trio abruptly canceled all of their upcoming concerts, and rumors of a breakup began swirling, but all three artists have denied the rumors of tension among them.
Ashley Monroe denied the tension in a 2015 interview, stating that the group really missed each other and had a bunch of song ideas at the ready. We will let you know a release date when we have one.