Pepsi Independence Day Fireworks Celebration
WXBQ is getting ready for the huge Pepsi Independence Day Fireworks presented by Food City at Freedom Hall in Johnson City on Sunday, July 3rd!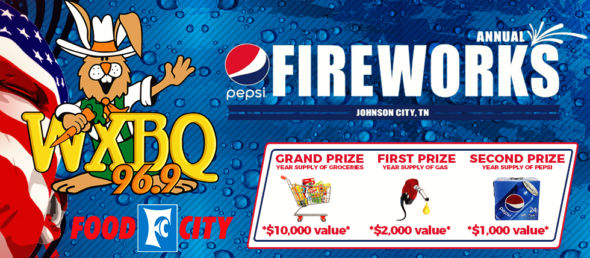 Pepsi Independence Day Celebration
Jul 3, 2022 (Sun)
Freedom Hall grounds
Following is the schedule for the evening:
5:00 pm – Food service begins, craft booths open, children's games start
(NOTE: Only Authorized Food/Craft Vendors will be allowed)
5:30-6:00 pm – WXBQ DJs
5:00-7:00 pm – On-site registration for a chance to win the following prizes:
GRAND PRIZE – (1) Year supply of Groceries – $10,000 Value from Pepsi, presented by Food City
FIRST PRIZE – (1) Year supply of gas – $2,000 Value
SECOND PRIZE – (1) Year supply of Pepsi – $1,000 Value
6:00-6:40 pm – Music by Restless Road
6:45-6:50 pm – Tribute to Gold Star Families and Disabled Veterans
7:00-7:45 pm – Music by Adam Doleac
8:00-8:10 pm – Color Guard with National Anthem and Pledge of Allegiance (Pledge of Allegiance led by Miss Johnson City and Miss Food City)
8:15-9:15 pm – Music by Tim Dugger
9:20-9:35 pm – Prize drawings on stage
9:50 pm – Welcome by Mayor Joe Wise, WXBQ musical introduction for fireworks
9:55-10:15 pm -Fireworks by Pyro Shows of Lafollette, TN
Live remote of event by WJHL-TV News Channel 11 with WXBQ 96.9 FM broadcasting of fireworks music
10:20-11:00 pm – Music by Tim Dugger
*Schedule subject to change
Tickets
Free and open to the public
NOTE: Johnson City Transit bus service will not be available for 2022 event. Additional public parking will be available in Parking Lot B. Johnson City Mall parking lots will be available for viewing the fireworks.
Additional Information
– All bags and coolers are subject to search
– Charcoal grills or any other incendiary devices are prohibited
– ALCOHOLIC BEVERAGES ARE PROHIBITED ON THE GROUNDS – new for 2022 – Beer garden will be available in the Auxiliary Gym from 5:00-9:55 pm
– Pets should remain at home for the safety of the animals and attendees
– Handicap parking passes and instructions may be obtained by calling Freedom Hall no later than Tuesday, June 28th at 423-461-4884 (weekdays from 10 am until 4:00 pm). Portable restroom facilities for the physically challenged will be located on-site
– Patrons driving personal vehicles to Freedom Hall are encouraged to remember to leave all valuables (cell phones, laptops, money, jewelry, purses, wallets, CDs, etc.) at home. Any valuables left in personal vehicles should not be left in plain sight and vehicles should remain locked at all times.
– Kermit Tipton stadium will be closed all day Sunday, July 3rd. For more information, please call Parks & Recreation at 423-283-5815.
– Freedom Hall pool will be closed all day Sunday, July 3rd. For more information, please call Recreation Services at 423-434-5749.
– Emergency Medical Service personnel will be posted at the command post location near the Freedom Hall pool and will be circulating throughout the crowd on bicycles and golf cart mini-med. Ambulances will be located around the periphery of the Freedom Hall site. Johnson City Fire Bureau personnel will be able to travel into the crowd via specially equipped golf carts to deliver emergency medical and fire suppression services.
**The best fireworks show in town will begin at 9:55 pm. PLEASE DO NOT ENDANGER YOURSELF OR OTHERS IN THE CROWD BY BRINGING YOUR OWN FIREWORKS.
Additional Information2
TRAFFIC ADVISORIES
No thru vehicle traffic will be allowed at the Science Hill Vocational School; pedestrian traffic will be allowed access from the Vocational School Parking Lot I to the entertainment areas
-Sections of Morningside Drive will be designated for UBER/Lift traffic only
-No thru traffic will be allowed on Guaranda Drive, Longview Drive, North Gilmer Park, Lacy Street, Sells Street, Mullins Street, Belmeade Drive, and Baron Drive. Only those showing driver licenses with home addresses will be allowed access. (Residents of these streets inviting guests to fireworks parties should provide police officers blocking the roads with a copy of their invitation list – all others will not be allowed access)
-Pedestrian traffic will be stopped on Guaranda Drive at 8:45 pm and resume at 10:45 pm
-Pedestrian and vehicular traffic will be stopped on Liberty Bell Boulevard at 8:45 pm and resume at 10:45 pm
-Following the fireworks, one-way traffic only will be allowed on Sundale Drive, Longview Drive and Guaranda Drive
-Use the Knob Creek/State of Franklin connection to get between Bristol Highway, I-26 and Freedom Hall
-When leaving the fireworks, use I-26 (rather than Kingsport and Bristol Highways), State of Franklin Road and Highway 381