Police: Drug duo caught with cocaine and marijuana on interstate stop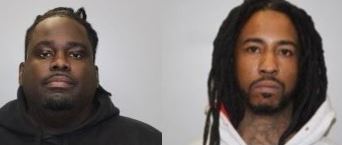 Eight charges were levied against two East Tennessee men caught with cocaine on Interstate 81 in Washington County, Virginia by officers of a multi-jurisdictional unit including Kingsport and TBI personnel.
Nickerson Jean-Baptiste, 36, of Church Hill, and, Djuan Anthony Lewis, 47, of Kingsport are being held without bond on various conspiracy, drug possession, and distribution felonies.
The pair were caught with over 500 grams of cocaine and three pounds of marijuana.
(MUGSHOTS: WCSO VA)