Robert Page elected as new Tennessee Supreme Court Chief Justice replacing Kingsport's Jeff Bivins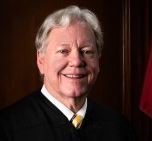 Robert Page will be sworn in as Chief Justice of the Tennessee Supreme Court next week after he was voted to the position by his colleagues.
Page is a pharmacist turned attorney who accepted a judgeship in 1998. This will be the first time in 30 years that the court's top position will be held by someone from rural West Tennessee.
Page is replacing Kingsport native Jeff Bivins who served as chief justice since 2016.
(IMAGE: Tennessee State Courts)