WXBQ & Food City Have Got the Dirt on NASCAR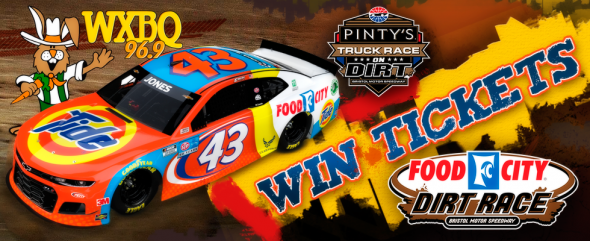 WXBQ and Food City are ready to play dirty! If you think you've got the "dirt" on your favorite NASCAR drivers you could clean up BIG with Food City, Tide and WXBQ.
Listen to WXBQ weekdays to answer some down and dirty trivia questions. If you have the right answers…you could win a Tide prize pack…tickets to the historic "Food City Dirt Race Weekend" at Bristol Motor Speedway March 27th and 28th….and go into the grand prize drawing for a brand new washer and dryer (facilitated in a $1,000 Best Buy gift card) from Food City!!
The winning is Free and Easy with Tide, Food City and 96.9 WXBQ!
Listen to win!
CONTEST LINE 1-800-332-3697