Great American Giveaway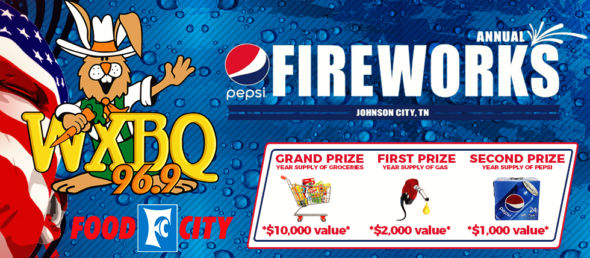 We are getting ready for the huge Pepsi Independence Day Fireworks presented by Food City at Freedom Hall in Johnson City on July 3rd ! It's the Great American Giveaway, you could one of three prizes: a years worth of groceries, or a years worth of gasoline, or a years worth of Pepsi products. Prizes will be given away just before the biggest fireworks display in the Tri-Cities! Win from Pepsi, Food City and 96.9 WXBQ!
There are five ways to become a qualifier. You can stop by one of WXBQ's live remote broadcasts at select Food City locations (see below for dates and locations) and enter. Be listening for your cue to call in and instantly win a $50 Food City gift card. Use your Food City ValuCard to purchase select Pepsi products. Handprint your name, address, phone number and mail entry to: Great American Giveaway, P.O. Box 1389, Bristol, Va 24203. One last finalist will be drawn on July 3rd at Freedom Hall.
FOOD CITY REMOTE BROADCAST DATES AND LOCATIONS
6/2/23 Fri 4-6pm 500 Forest Drive, Jonesborough, TN
6/5/23 Mon 4-6pm 151 Cook Street, Abingdon, VA
6/7/23 Wed 12-2pm 1921 Highway 394, Blountville, TN
6/13/23 Tue 12-2pm 1205 N. Eastman Road, Kingsport, Tn
6/16/23 Fri 4-6pm 125 Judge Gresham Road, Gray, Tn
6/20/23 Tue 4-6pm 1320 Little Creek Crossing, Bristol, Va
6/23/23 Fri 12-2pm 920 Broad Street, Village Shopping Center, Elizabethton,
6/26/23 Mon 12-2pm 920 North State of Franklin Road, Johnson City, TN